January 15, 2019
The Digital Accessibility team hopes everyone had a restorative winter recess. As we look at the semester ahead of us, we look forward to continuing our work together to make Yale a more digitally accessible campus.
As always, please forward this newsletter to your colleagues and help us spread the word about the services we offer and the resources we provide. Awareness is a big piece of the cultural shift we're striving to affect.
Proper color contrast is necessary for a fully accessible website or document. Guidelines for web accessibility require at least a 4.5:1 ratio between background and text to meet minimum accessibility standards. You can check the color contrast of elements of your websites and documents by entering hex codes into WebAIM's color contrast tool.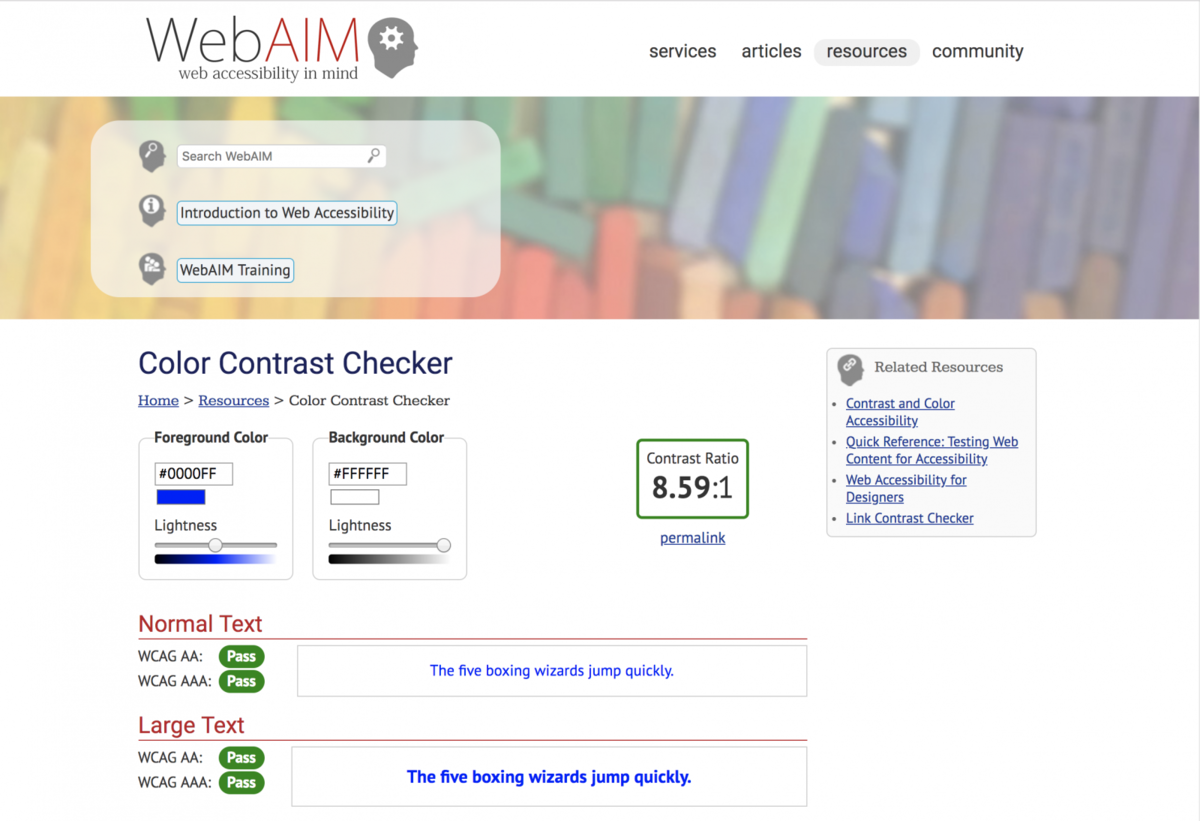 YaleSites – Special Topics: Accessibility Basics
Wednesday, March 20 from 2:30-4pm in 221 Whitney, training room 2
This class will cover the basics of website accessibility, as well as the actions you can take to improve or create an accessible website. Topics include link text, image text, heading structure, imagery and more! This class is recommended to anyone who works on a Yale website in some capacity, or for those with an interest in accessibility. Basic knowledge of YaleSites content editing is highly recommended before taking this session.
Web Accessibility Training for Content Editors
Thursday, February 14 from 9am-12pm in 25 Science Park room 321
Wednesday, April 17 from 12-4pm in 25 Science Park room 321
This half-day workshop is designed to train staff who input content into websites how to do so in ways that meet Yale's Web Accessibility Policy. Note: This workshop is primarily for people who create content through tools such as Wordpress or YaleSites Drupal. Visual designers and developers who program websites using HTML, CSS, or JavaScript can reach out to accessibility@yale.edu for more information on training targeted to their needs.
Objectives:
Explain the roles and responsibilities for content editors in improving the accessibility of Yale's digital campus
Teach best practice for creating and editing content to be accessible
Share resources available to assist content editors in maintaining accessible web content
Accessible Word Documents, PowerPoint Presentations and PDFs: Basics
Wednesday, January 23 from 9-10:30 am at the Center for Teaching and Learning, Room 121
Monday, February 11 from 1-2:30 pm at 25 Science Park, Room 321
This beginner's document accessibility workshop is designed to train staff in the basic methods used for making Word documents, PowerPoint Presentations, and PDFs digitally accessible, for inclusion on university websites or for university-related business, including teaching, student services, and other administrative support. It is appropriate for anyone interested in learning how to make documents used in everyday university business more accessible and will cover the fundamentals of document creation and remediation. This training does not require a computer, but attendees are encouraged to bring laptops if possible.
Accessible PDFs: Advanced
Thursday, January 24 from 9:00 am- 10:30 am 25 Science Park Room 321
This workshop is designed for those who make PDFs for inclusion on university websites or for other university-related business, and want to try their hand at some of the advanced techniques for making accessible PDFs using Adobe Acrobat Pro. Doing advanced PDF remediation is admittedly tricky, and is not something that we expect many at Yale to master. The techniques that will be reviewed are helpful to know if you desire to make PDFs accessible in situations where you don't have the original source files (Word files, etc.). If you haven't first attended our basic document remediation course (or have an understanding of making accessible Office documents and exporting to PDF), you should consider signing up for that course first. The training room at 25 Science Park has computers and access to Acrobat Pro DC. Attendees are encouraged to bring laptops if they prefer working on their own computers. Practice files will be provided. Following along with the instructor has proven beneficial for some who have taken the training.
Making Word Docs, PDFs, & PowerPoints Accessible for Students with Disabilities
Training for Registrars and Academic Department and Program Support Staff
Wednesday, February 6, 9-11:00 am, 246 Church Street, Room 311
Thursday, February 7, 1-3:00 pm, 246 Church Street, Room 311
Do faculty routinely ask you for help scanning, creating, or uploading course materials to their Canvas sites? Do you support the creation and maintenance of documents posted on university websites? Did you know that these materials should be digitally accessible to people with disabilities per Yale's Web Accessibility Policy? This beginner's accessibility workshop will introduce staff to the world of accessibility, including what digital accessibility is, the student populations it serves, and basic methods for making Word documents, PowerPoint Presentations, and PDFs digitally accessible. In addition to document accessibility training, you will learn best practices for making sure your Canvas sites remain accessible. It is geared towards university Registrars and academic department support staff.
Have an event you'd like us to feature or a resource to share? Email Michelle Morgan michelle.morgan@yale.edu for inclusion in our next update.
Events:
DAY and YVN Winter Social
Tuesday, January 29
4:30-6:00 pm
Kroon Hall, 195 Prospect Street
The Knob—3rd floor
Join DAY (DiversAbility at Yale) and YVN (Yale Veterans Network) for a great opportunity to meet new friends, socialize, and network. Enjoy raffle prizes, appetizers, and cocktails. This event is open to all members of the Yale community.
Resources:
Screen Readers
Curious about screen readers but confused about all the commands and shortcuts needed to use them? 247AccessibleDocuments.com has published a blog post that lists the commands for JAWS and NVDA. Even if you're not planning on testing for accessibility using a screen reader, the list is useful in conveying the actions people who use screen readers make when navigating websites and documents.
PDF Accessibility
Want to go deeper in PDF Accessibility? LevelAccess has a great set of resources covering everything from Metadata, Reading Order, Artifacting Headers and Footers, Links, Data Tables, Forms, and more.
Color Blindness Simulator
Ever wonder what your photographs, diagrams, or other colored materials look like to people with different kinds of color vision deficiencies? Coblis-Color Blindness simulator is a free and useful tool for checking your content.
Image Descriptions
The DIAGRAM Center (Digital Image and Graphic Resources for Accessible Materials), in partnership with the Carl and Ruth Shapiro Family National Center for Accessible Media and Touch Graphics, Inc., have produced a phenomenal set of training materials for learning when and how to describe a variety of images.
Want to nominate someone (including yourself) as an Accessibility Hero? Email Michelle Morgan for inclusion in our next update.
Websites and Web Applications
Heather Smith, Communications Manager at Yale Health, worked with the Digital Accessibility team to update the accessibility of the Yale Health website and important PDF documents. A problem with the export process of a long document with a table of contents exposed a false assumption in our advice, which has helped our team improve our consultation and training related to PDF document creation.
Faculty & Instructional Staff
Katie Healey, PhD candidate in History of Science and Medicine, continuously champions accessibility efforts as a Graduate Teaching Fellow with the Poorvu Center for Teaching and Learning, Certificate of College Teaching Preparation (CCTP). In December, she coordinated a workshop for CCTP participants on making course materials more accessible.
Staff
The Office of the University Printer has taken significant steps to increase the accessibility of the reports that it designs and edits. The office is also helping coordinate training on accessibility in InDesign, thus growing the number of professional designers on campus skilled in implementing design decisions that are good for accessibility.
Librarians
Jessica Bower, Reserves Services and Resource Sharing Librarian, convened an Accessibility Working Group comprised of representatives from each of the university's major libraries to address accessibility needs from the vantage point of Access Services. In addition to looking at ways to incorporate accessibility into the workflow of library staff, she coordinated two workshops on PDF accessibility for Course Reserves staff.