User Journey Maps
Quick Definition
Journey Maps are a UX visualization document that showcases the steps that a user takes in a process to accomplish a goal. Personas are created with information gathered from user and stakeholder interviews.As a result of these activities, you can identify the most important functionality an audience needs.

Why Use a Journey Map? 
At a high level, journey maps are a combination of storytelling, visual design, and empathy. When completed, your project team will have a complete idea of how your users interact with your website or application and have clear definitions of your pain points. The process of creating a journey map allows your team to have an internal conversation and avoid any possibility of assumption misalignments.
Additionally, a visual design deliverable like a journey map is an effective way of creating something memorable and easily digestible so that everyone from managers, stakeholders and staff members can easily relate to it. 
What Makes up a Journey Map?
The Person – This is usually represented as a Persona or an Archetype. This provides a point of view for your users/people. 
Environment or scenario – This describes the journey that the user will be going on. An example of this could be "John Smith is looking to buy a new car". This lays the expectations of the user and based on which persona/archetype they are, we can make assumptions on user behavior. 
Journey Phases – This describes the high-level stages of the user's journey. In the previous example we can use stages like Research -> Test Driving -> Purchasing -> Initial Experience. 
Actions, Mindset, Emotions – These are behaviors that the user will encounter throughout their journey and can be mapped while they go through the different stages. John can have felt overwhelmed during the research stage and have a student-like mindset, but when he gets to the test-driving stage, he could experience doubt and a second-guessing mindset. 
Opportunities – These are insights that come as a result of the mapping. The opportunities allow the team to identify and answer questions like "How can we improve the test-driving experience?" and "Where are the biggest opportunities to improve the car buying experience?".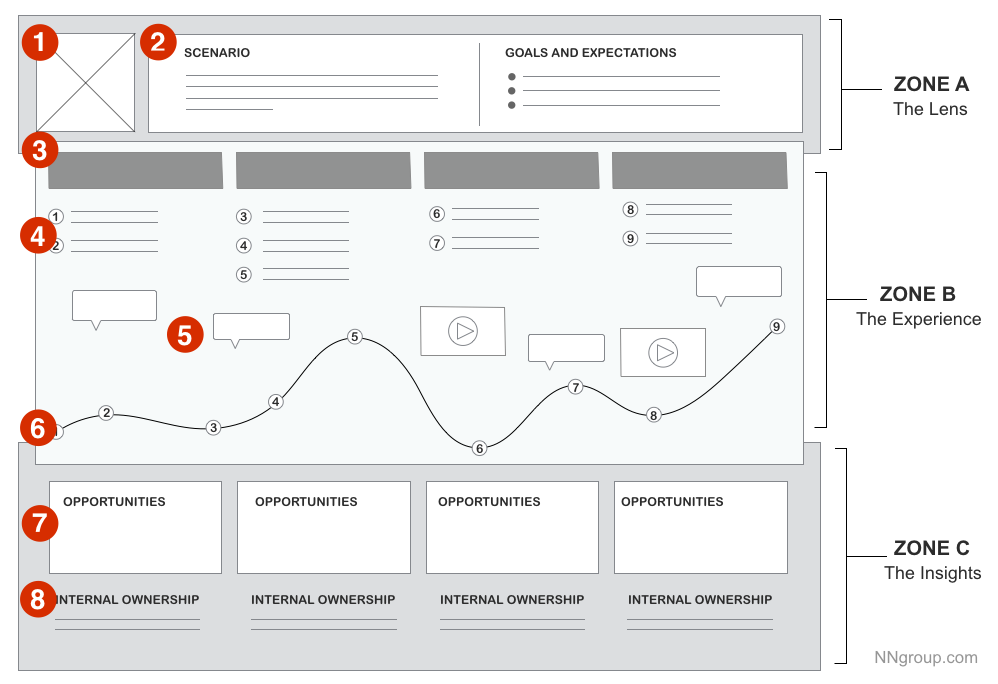 Resources 
Here are some other resources for Journey Maps